Bright Data is a leading company for proxy and data collection services. They claim to be the world's leading data collection platform and proxy service. According to their data, the company serves 40% of the top 10 eCommerce sites and even Fortune 500 companies.
With their extensive net of proxies, data collection, and web unlocking services, they promise to give your company a competitive edge, data transparency, and growth-driving data. 
But are Bright Data's claims founded?
In recent years, its status as an industry leader has been challenged by new competitors entering the market. In this in-depth review, we'll dig into both the good and the bad as well as how they perform in comparison with competitors. If you don't have time for a full review, check out the key points below. This in-depth review includes all of Bright Data's services, pricing, performance, customer support, and user experience. Let's get started.
In this article we will discuss:
Bright Data overview
Bright Data proxy services help businesses collect structured data from websites through their proprietary technology. They feature the largest network of residential proxies in the world, with more than 72 million residential IPs. In addition, they offer four networks:
Data Center Network – Half a million IPs in 1,560 subnets targeted on a country and city basis.
Static Residential Network – Offers real IPs from an Internet Service Provider (ISP) for your personal use. 
Rotating Residential Network – Enables you to alternate between different IPs so that you can collect data from different locations and override request limitations from IPs in identical or similar subnets. 
Mobile Proxy Network- Consists of millions of 3G/4G connections around the globe. 
Companies benefit from Bright Data's services for the following use cases: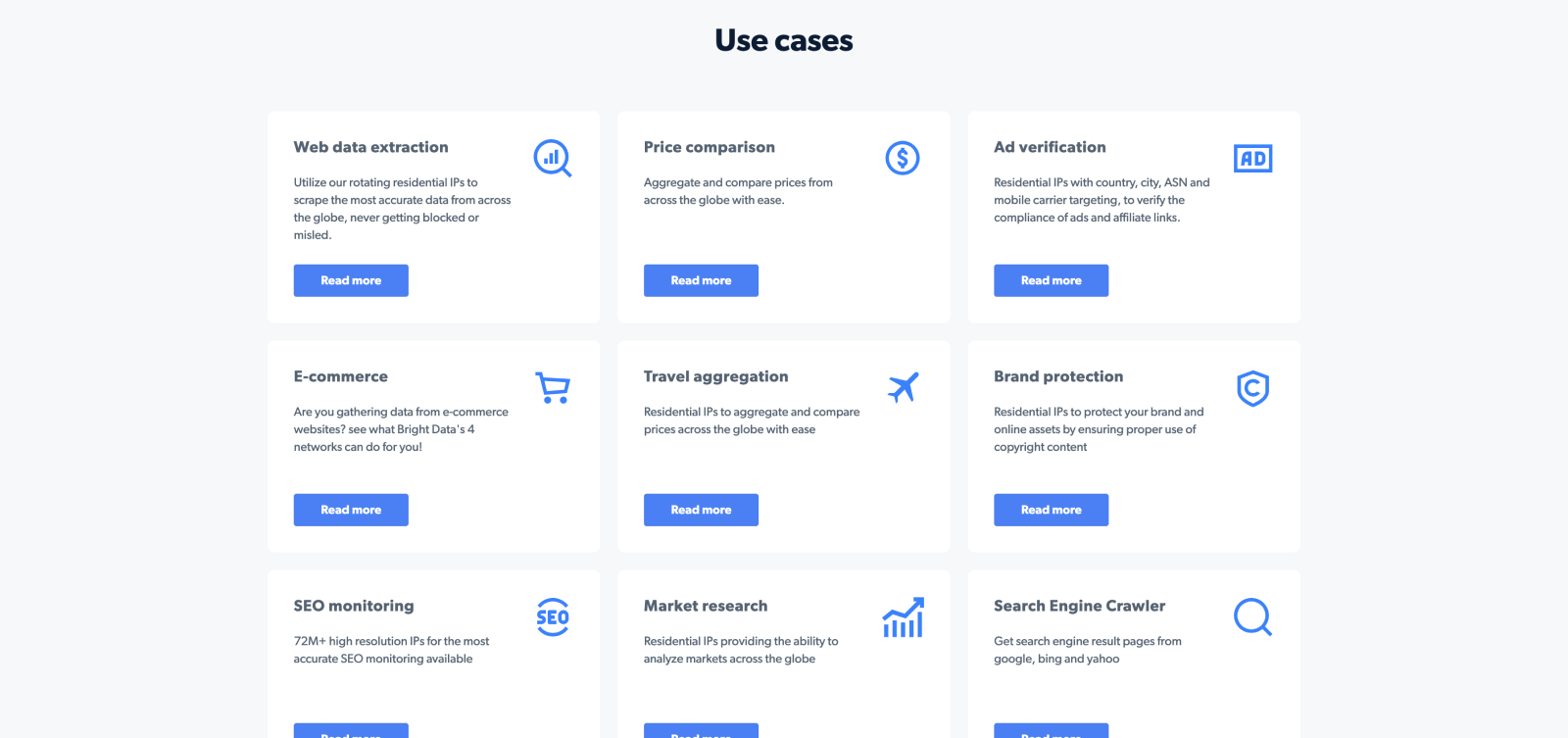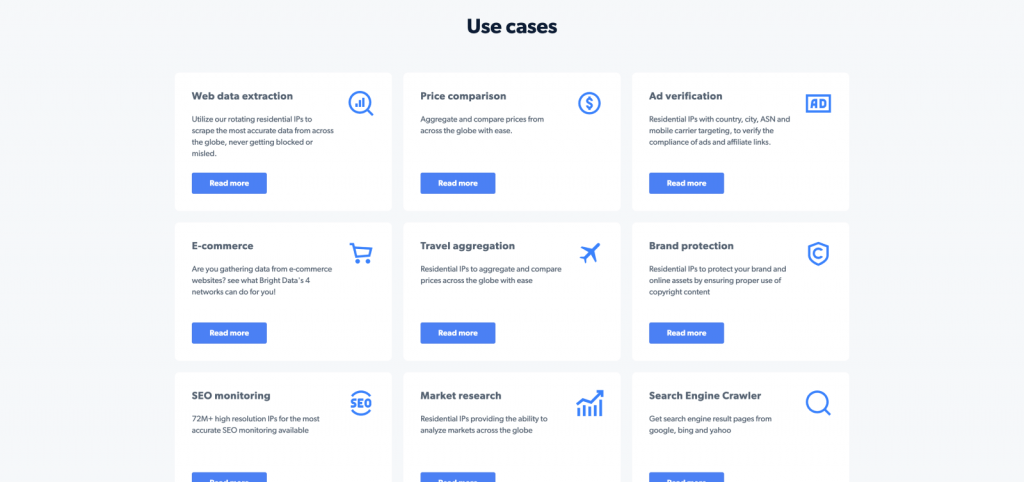 Bright Data Pros
A large network of proxies
Extensive features
Free trial period
Ample protocol support
Bright Data Cons
Pricey
It has a learning curve for inexperienced users (when integrating with their networks, not with their 'low code options' such as the Data Collector).
Their Know Your Client (KYC) procedure can be a little tedious (but keeps their networks safe).
Key Features
Different proxy types: data center, residential, mobile.
Supports at least three major protocols: HTTP, HTTPS, SOCKS
Targeting: based on country, city, ASN, and carrier. 
Multiple layers of authentication: IP whitelist and user credentials
Up to 500 sub-users
A centralized dashboard
Extra tools: API, browser add-ons, Proxy Manager, web scraping tools.
24/7 support with a designated account manager
Pricing starts from $500 per 40 GB for residential proxies 
Multiple payment options, credit, and debit card, as well as electronic payments. 
7 days free trial and a money-back option (after three days for individuals). 
Pricing
Their pricing model is a bit complex but they do offer a useful calculator.
It can be a bit of a hassle to understand how much you would pay for Bright Data's proxy services, but in this section we will break it down step-by-step. Some pointers to consider:
Bright Data uses a credit model. Simply put, you add money to your account and use it to pay for proxy services, and run time (this is called your run rate).
The rates vary according to the product and payment terms. You can use Pay-As–You-Go, a monthly, or even yearly 'subscription'.
All tiers give you the option to pay per IP or per GB usage.
Let's break down the payment tiers:
Proxy Infrastructure
Pay-As-You-Go
| | | |
| --- | --- | --- |
| Pay-As-You-Go | Per IP | Per GB |
| Data Center | $0.65 | $0.10 |
| Residential | | $17.5 |
| Static Residential | $0.5 | $20.00 |
| Mobile | | $42 |
Monthly subscription
The monthly subscription offers 4 different tiers: Starter, Production, Plus, and Enterprise. Each tier has different rates for Data Center, Residential, Static Residential, and Mobile networks.
Below is how much would you pay monthly for the different tiers:
Starter – $500/month
Production – $1000/month
Plus – $ 3,400/month
Enterprise – $30,000/month
You can save some money by choosing to pay yearly:
Starter – $450/month – $5,400/year
Production – $900/month – $10,800/year
Plus – $ 3,060/month – $36,720/year
Enterprise – $27,000/month – $324,000/year
These rates are for Data Center proxies. Rotating and Static Residential start from $3/GB, Mobile proxies start from $15/GB.
All services include 99.99% uptime, unlimited simultaneous sessions, Proxy Manager usage, and 24/7 professional support.
Other products such as Web Unlocker, start from $3/GB. The Search Engine Crawler gives you a thousand requests per $0.30, making these Bright Data products very affordable.
How can I calculate my rate?
After reading Bright Data's pricing structure in its entirety, I understood why I needed their mighty pricing calculator. The calculator lets you check exactly what you are going to pay for your choice of IPs, GB usage, as well as the type of proxy network you choose to use. 
I chose to test the calculator using a fairly basic case scenario: A data center proxy, using 50 IPs per month and 120 GBs of traffic (also on a monthly basis). I chose to use a shared proxy pool and to pay on an IP basis in order to simplify the process and reduce costs. As you can see in the image below, the price slightly differs from the table above. The monthly price would put me right between the Production and Plus tiers.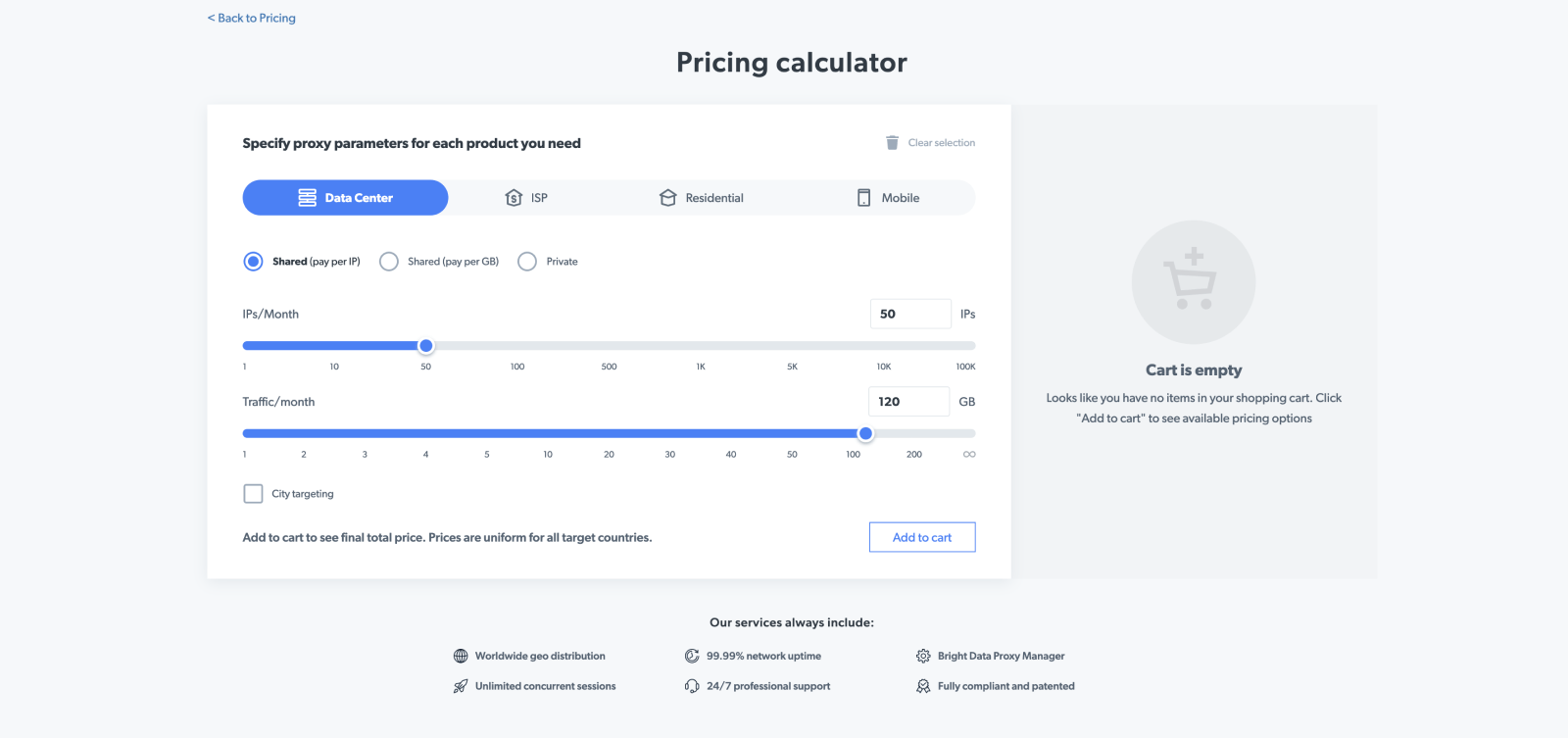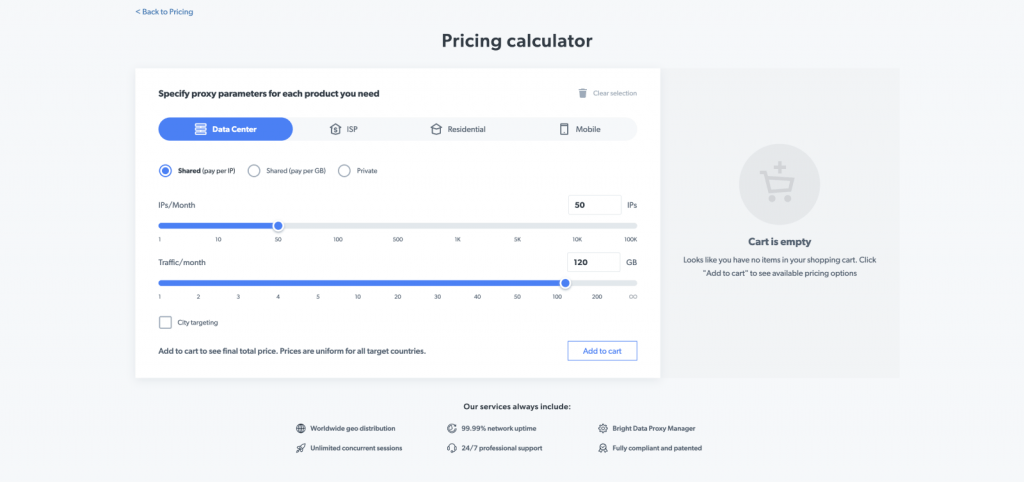 In this case scenario, it would be better for me to choose a 'production tier' than a custom plan.
The plans are actually intended to benefit customers with larger volume needs. While using a rotating residential proxy can cost $12.50/GB with the starter plan, if you use Pay-As-You-Go, you would pay $17.50/GB. If you choose to target based on city or add advanced features like ASN, the price can get more expensive.
Bright Data services
Bright Data is not only about proxies. In fact, they offer a full suite of services for companies that want to gain access to accurate and secure datasets and are leading the industry in turning data into a commodity. In this section, we will walk you through all of Bright Data's services, starting with a proxy network breakdown.
Proxy Network Breakdown
Data Center proxy network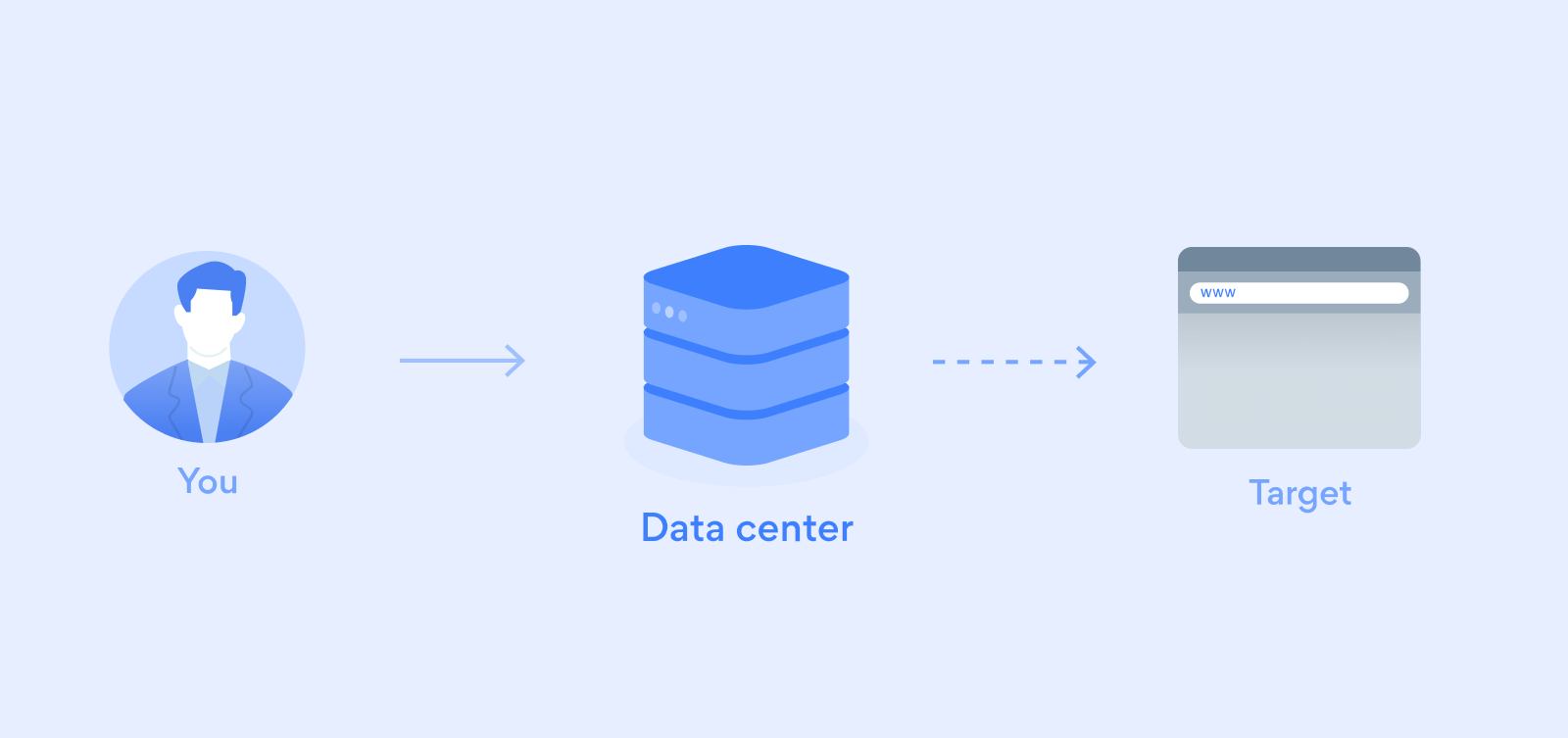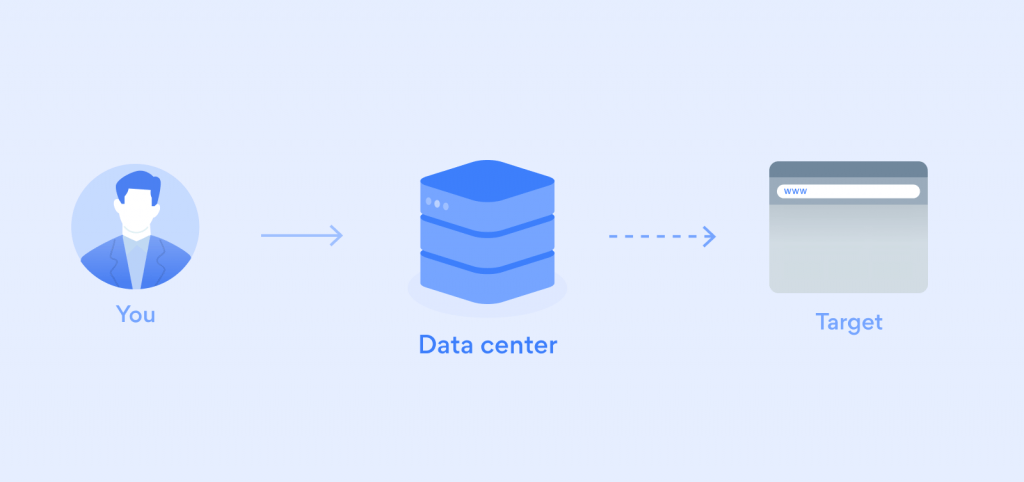 Data centers are not affiliated with an Internet Service Provider. Instead of assigning one IP per server, data center proxies have multiple IPs assigned to the same proxy server. Data center proxies tend to be cheaper than other solutions.
What are the pros and cons of data center proxies?
Pros:
When using static IPs with a data center, you can keep them indefinitely without rotating or changing them.
You can target cities in 95 countries
More speed. Data center requests are usually faster than residential and mobile because of the distance from server to server is shorter.
Cons
Data center IPs are geared towards simpler target sites.
Using a shared IP pool you may end up with an IP that is flagged for data collection.
What can you use a Data Center Proxy for?
This type of proxy can be used for all use cases besides sites that use advanced blocking systems.
Static Residential proxy network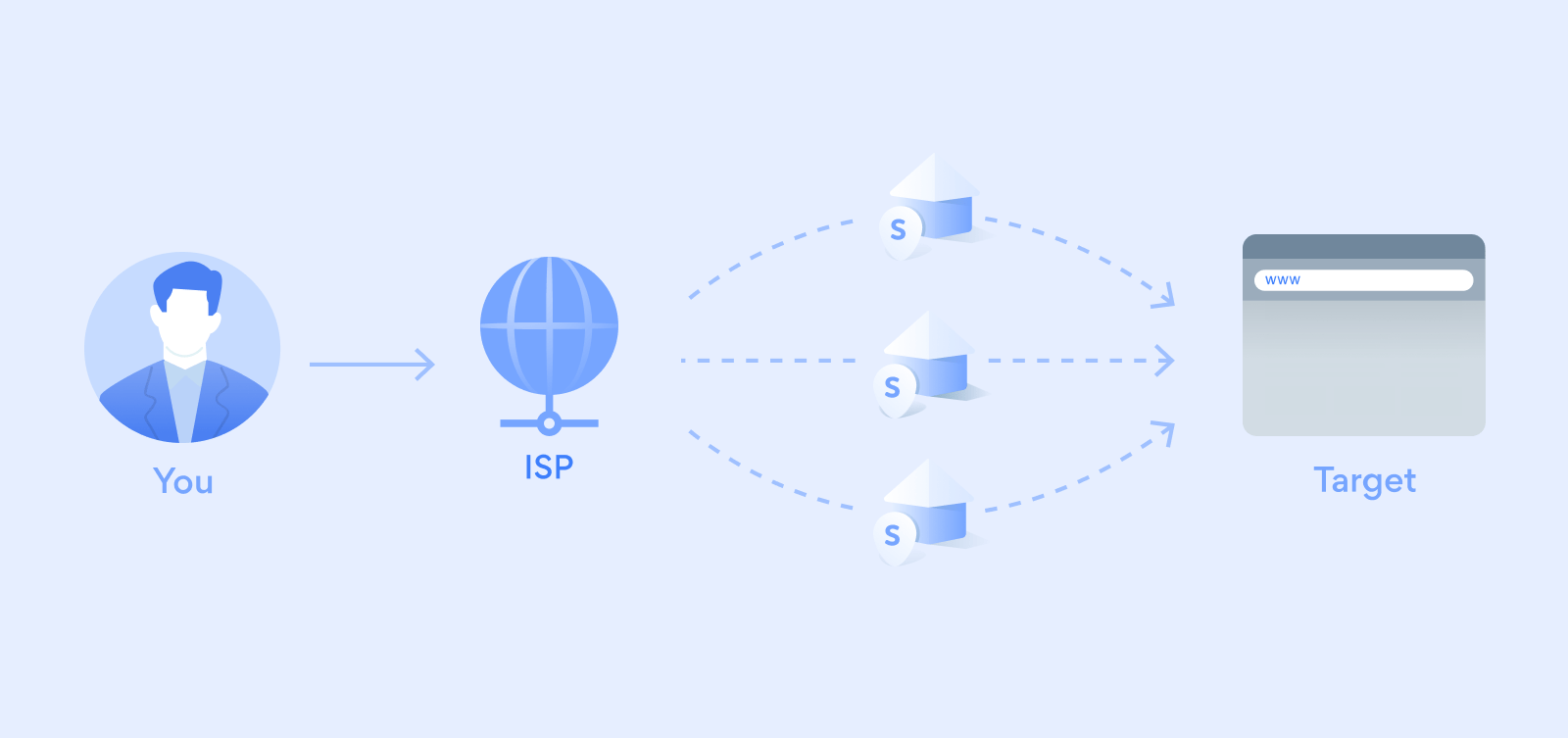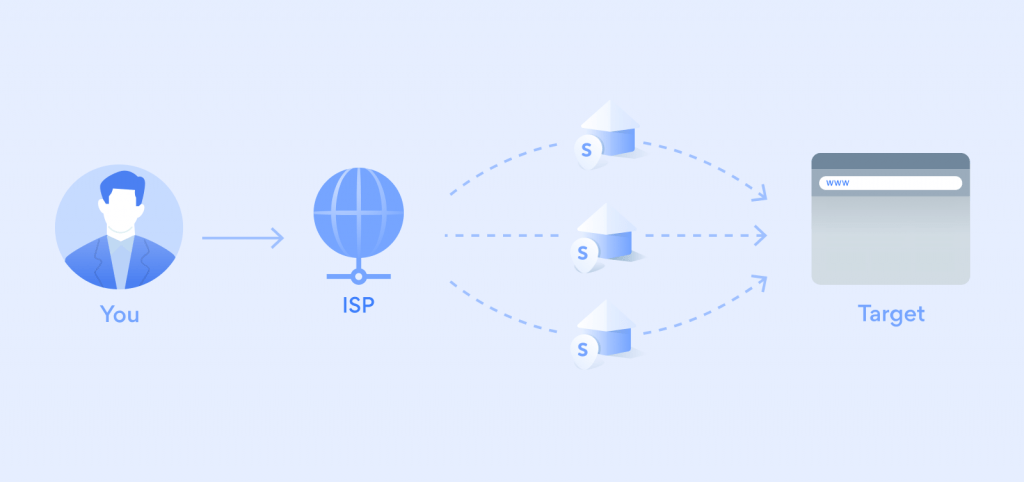 Static residential proxies use real residential IPs. Bright Data buys or leases the IPs from Internet Service Providers (ISPs) with the intention of using them for commercial use. The IPs are then hosted on servers that identify themselves to target sites as 'residential IPs'.
What are the pros and cons of using a Static Residential proxy?
Pros:
Using a real IP from an ISP makes it easier for target websites to recognize you as a real user. In a way, you are getting the benefits of appearing as a private person browsing while keeping it cost effective, as if you were using a data center.
You can upgrade and buy private IPs allocated for a specific domain. This way you are enjoying the anonymity of a proxy while increasing your success in avoiding potential 'roadblocks'.
Cons:
Not a suitable option for targeting mobile devices and/or when you need to rotate proxies.
What can you do with a Static Residential proxy?
Use a Static Residential network for reaching international markets with retail promotions, targeting specific countries and/or cities in order to collect data, as well as for collecting reliable financial data in a specific market. The strength of static residential lies in the ability to overcome rotating and geolocation blockades.
Rotating Residential proxy network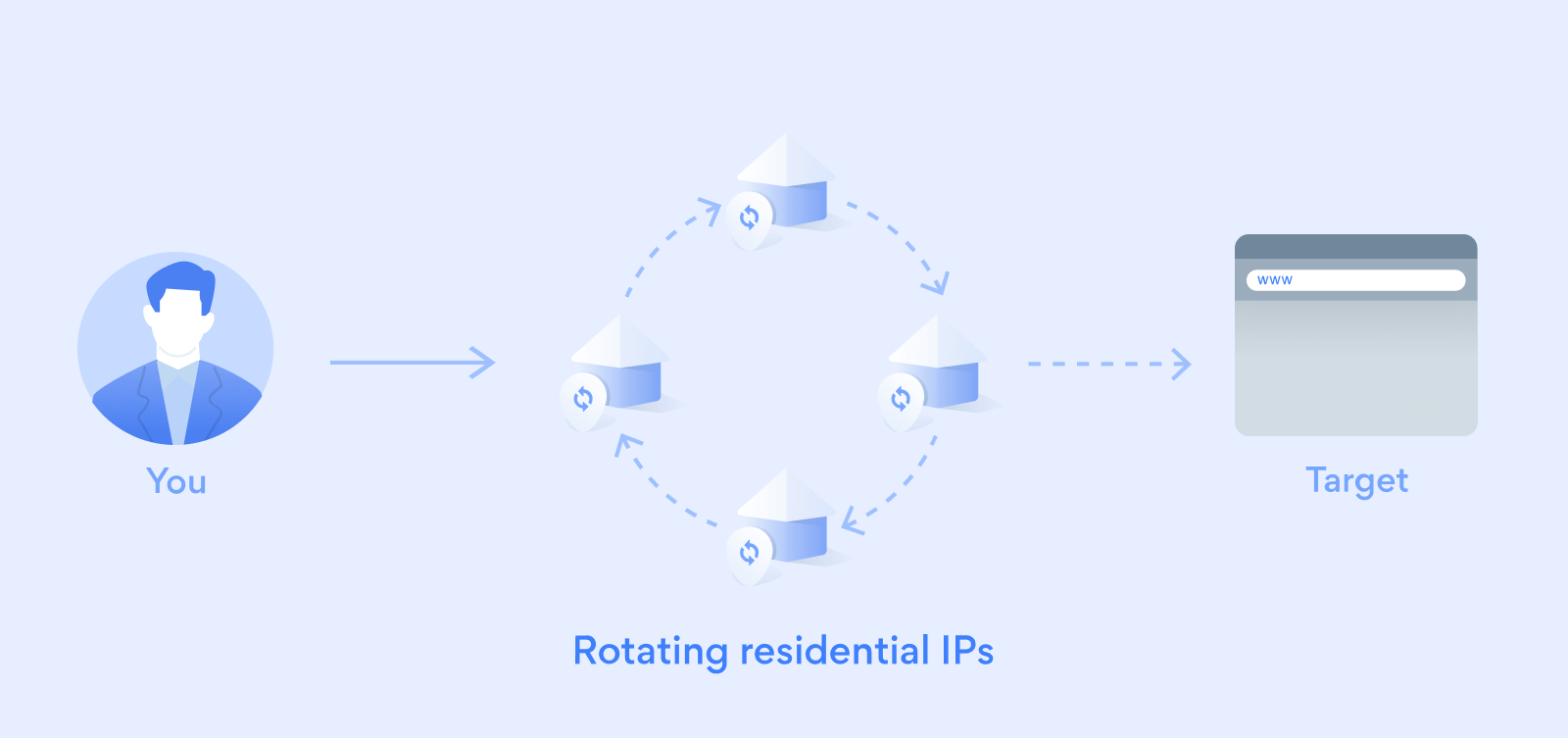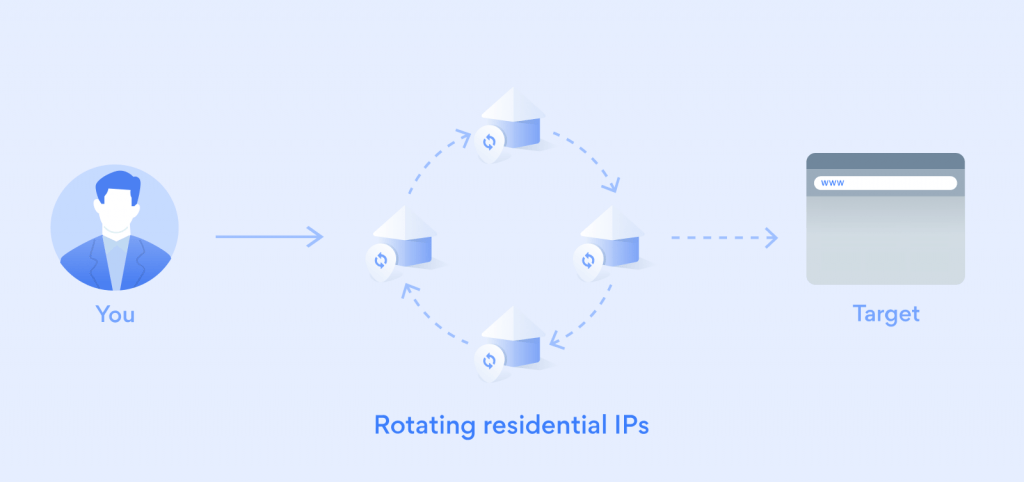 These types of proxies consist of a network of IPs that belong to real individuals and can be rotated as needed.
How Bright Data residential proxies work?:
A software owner embeds Bright Data's SDK in its app. They get paid according to the number of users that choose to opt-in.
On the other hand, individuals that choose to participate as peers are rewarded in the form of free app subscriptions.
On the client end – you get to route traffic through those real user devices and collect the data you need using real devices.
What are the pros and cons of a Rotating Residential network?
Pros:
Access and collect data from sites with advanced blocking mechanisms.
You can crawl using real user IPs avoiding a variety of blocks that may be related to geolocation or the quantity of requests sent to a specific target site.
Cons:
Since you are using residential IPs, this is usually a more expensive option.
It may be a less effective option if you want to target mobile data.
What can you do with a Rotating Residential Proxy?
Since this network is more powerful in overcoming geo-blockades, you can use the rotating residential proxy network for advertising verification, brand protection as well as implementing your pricing strategy by doing a competitive market price comparison. You can also verify and work to protect your company's Intellectual Property (IP).
Mobile proxy network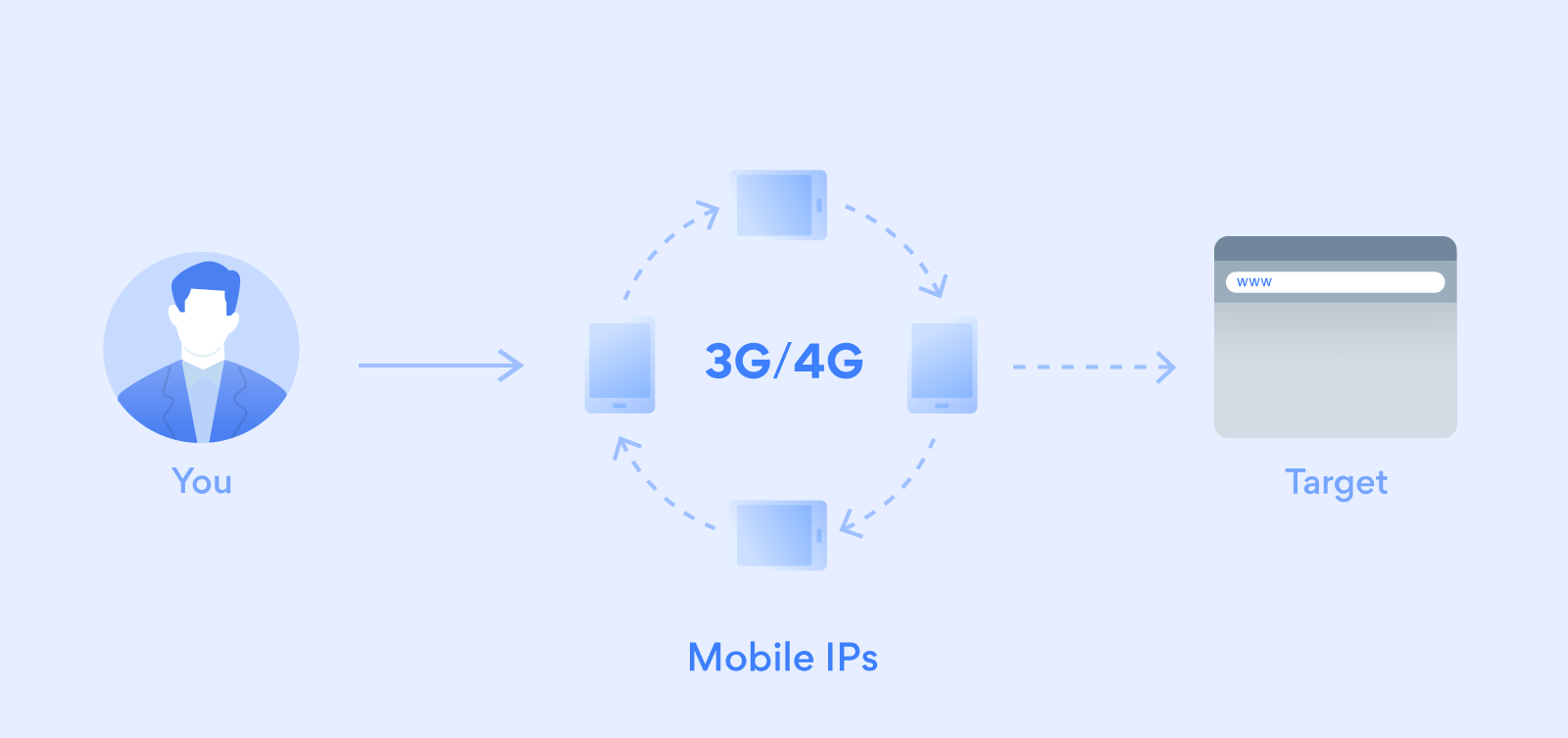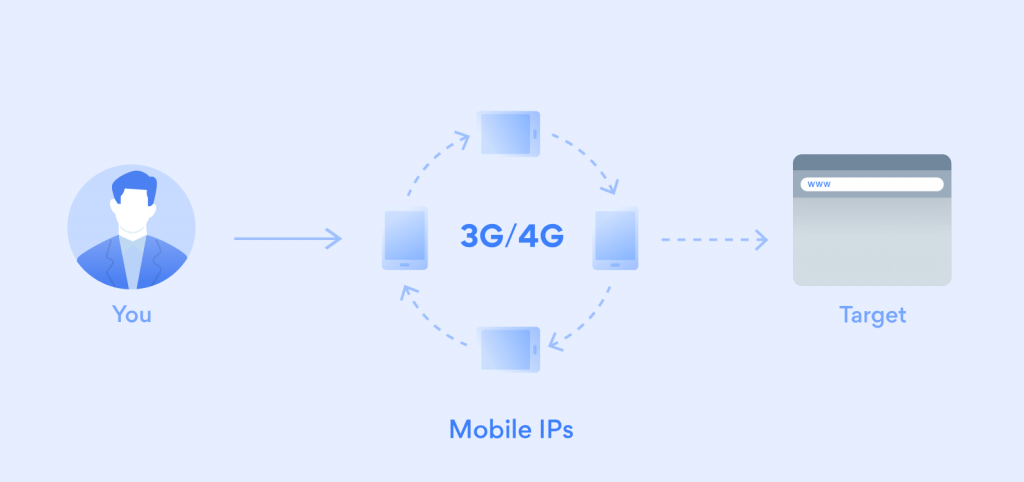 Mobile proxy networks consist of a group of real user mobile devices through which traffic is routed. This makes them extremely difficult to detect and one of the most effective ways of collecting data (albeit, the most expensive option).
What are the pros and cons of using Bright Data's Mobile Proxy network?
Pros:
Eliminates the barriers between devices enabling you to access mobile programs and apps directly from your desktop. This greatly simplifies quality assurance (QA) testing.
When a request comes from mobile, it is extremely difficult to track making it ideal for competitive intelligence.
Cons
They are much more expensive than other proxy options.
What can you do with a Mobile proxy network?
This type of proxy network is used for sophisticated tasks, such as mobile ad verification, and app QA. It can support complex use cases, especially those that require GPS-sensitive data collection.
Also keep in mind that with Bright Data, you can combine different types of proxies for your business's unique use case. Practically speaking you may be able to greatly benefit from using Bright Data's Proxy Manager tool to get a handle on all your proxy activities.
Proxy Manager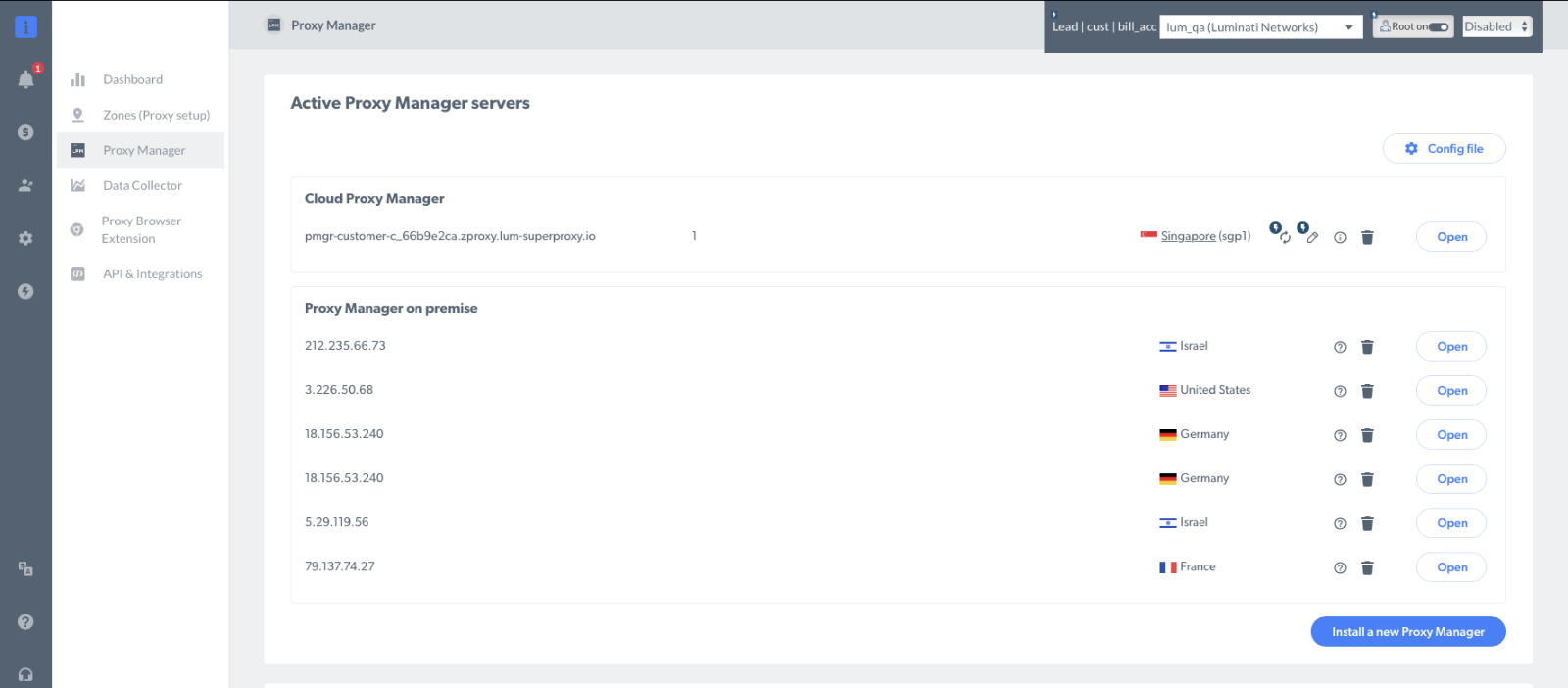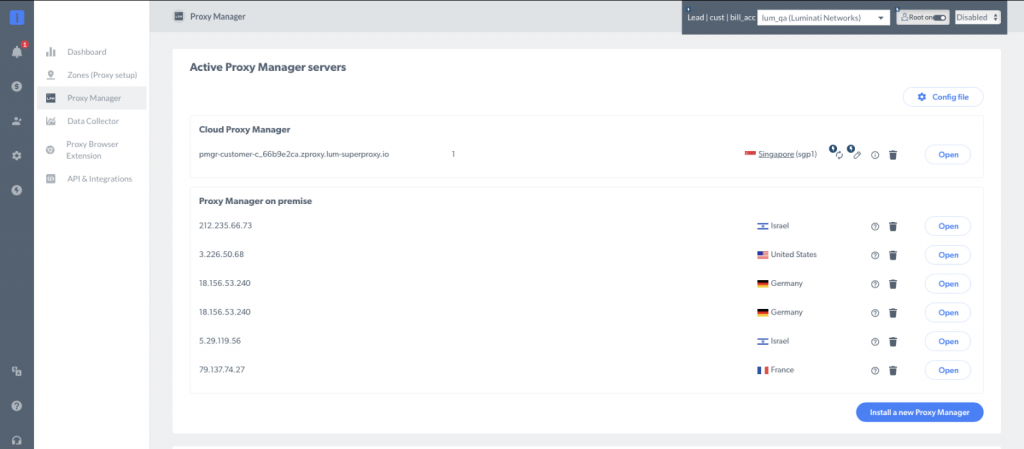 This tool automatically lets you manage and alternate between proxy networks. Proxy manager key features include:
Customizes the content unlocking process by automatically assigning the right proxy network for any given job. The solution is tailored to your needs via Machine Learning (ML) capabilities.
Automatically retries failed requests using a new IP or a new set of headers (header management).
Offers a centralized dashboard that gives you visibility over all your crawling activities. You can see the requests, the IPs you are using, where they are located, how much bandwidth they are consuming and more.
You can reduce bandwidth consumption by refining what you want to load during the data collection process. This helps you prevent loading images and other data that may overload your bandwidth, and make certain jobs pricier than necessary.
Data Collector
Data collection is a time and resource consuming activity. Data collector automates the entire data-collection process with a zero-touch model. 
What are Data Collector's main features?
100% customized to your data needs
You can create a custom data collector in minutes.
Zero infrastructure
Completely automated
Responsive to changes on target sites
It has a browser extension as an option which enables you to collect data from target sites directly from your browser.
You can also use the Data Collector Code Editor (IDE) if you want to write the crawl code yourself. Then you can let the system pull the data you need from your target page based on your code stipulations.
How does it work?
It works in minutes, in three simple steps:
Request – Choose what your target data sets.
Receive – The software automatically collects, and sends you your data sets based on your specifications.
Run – Once your data is delivered integrate into your website, systems, algorithms and the like for optimal output (analytics, pricing recommendations, competitive market analysis and the like).
Bright Data has a really neat way for you to see what Data Collector can do for you on their website. I decided to check out how it works. I personally wanted to get data sets pertaining to 'Nike'.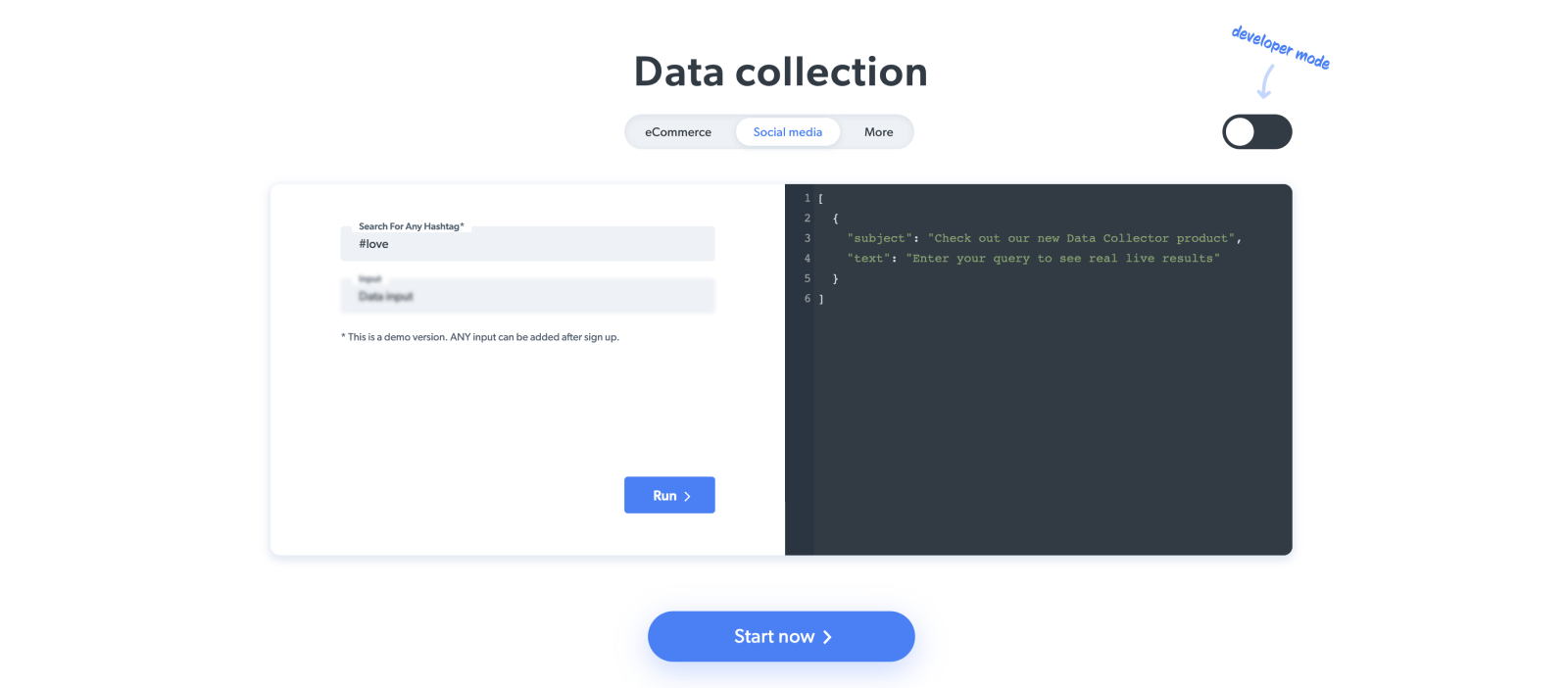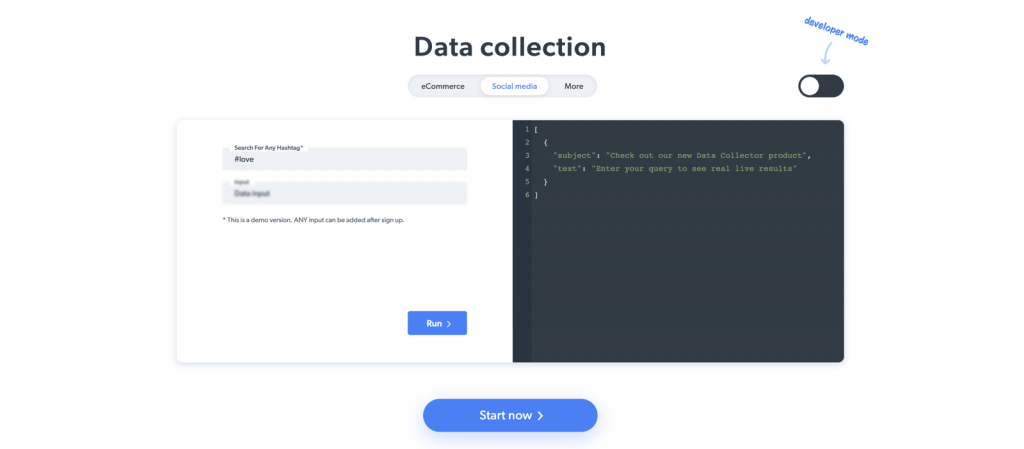 I got a sample data set immediately, which totally blew me away – quickest POC (Proof of Concept) I have ever seen. In any case,  you can check it for yourself on Bright Data's website.  
So, what can you do with Data Collector?
Collect social media, financial and eCommerce data (among others)
Gather dynamic competitive pricing, customer sentiment, which can help companies anticipate future consumer demand, for example
Web Unlocker
This is one of Bright Data's flagship products. They've created the first automated unblocking and unlocking software that works every single time with a self-proclaimed 100% success rate. In fact, Bright Data is so confident in their Unlocker's capabilities that they will only charge you for successful requests. 
What are the benefits of Web Unlocker?
Automatically selects the right IP to use, while managing IP rotation and retry requests.
Completely emulates the user environment while circumventing complex blockades
The data is automatically validated to ensure the highest quality of information is retrieved
How does it work?
Choose the site target you wish to unlock
Install the Bright Data Web Unlocker
Send a request using curl. The format for the request is as follows:
curl -k –proxy lum-customer-<id>-zone-unblocker:<password>@zproxy.lum-superproxy.io:22225 https://example.com
The responses will be in JSON or HTML.
Search Engine Crawler
User-generated data amounts to a huge percentage of what is currently on the web. It is crucial for companies that want to know where their users are learning about their products and what topics or queries they are searching for, for example. Search Engine Crawler lets you obtain user generated data sets from all major search engines with a single request. Here are some key product features: :
Works with all major search engines
Includes specific geotargeting capabilities
Highly customizable: you can choose criteria such as language, geolocation, type of request, and more.
Relatively inexpensive
Integrates easily with third-party crawlers
What can you do with the Search Engine Crawler?
Keyword research
Create an SEO strategy based on Search Results Page Rankings (SERP)
Market research
Brand Protection and copyright infringement detection
Advertising intelligence i.e. keeping track of ad campaigns
As with the Web Unlocker, Bright Data is pretty confident of the success rate of its Search Engine Crawler (SEC) and only charges for successful requests.
You can get a better look at this tool  by going to the SEC product page. You will be able to see what data sets look like in either JSON or HTML.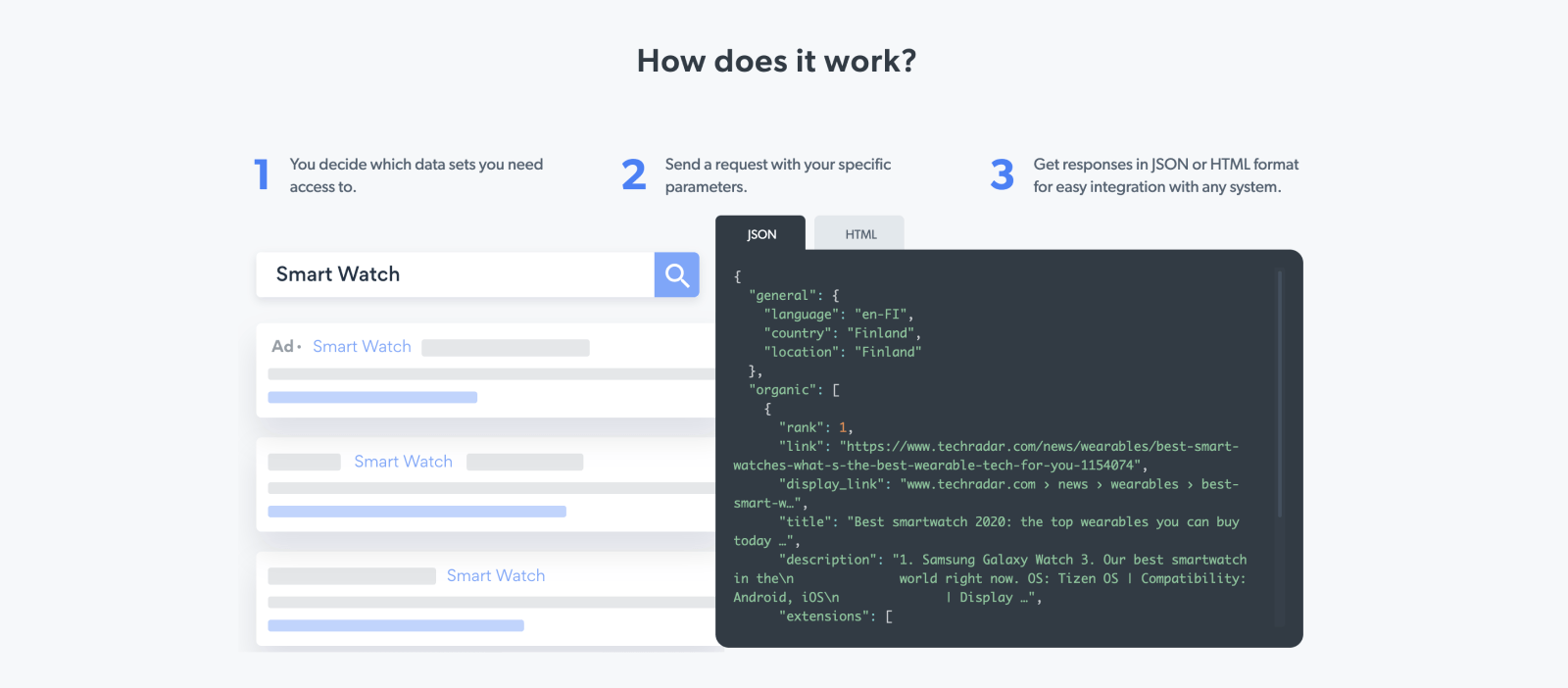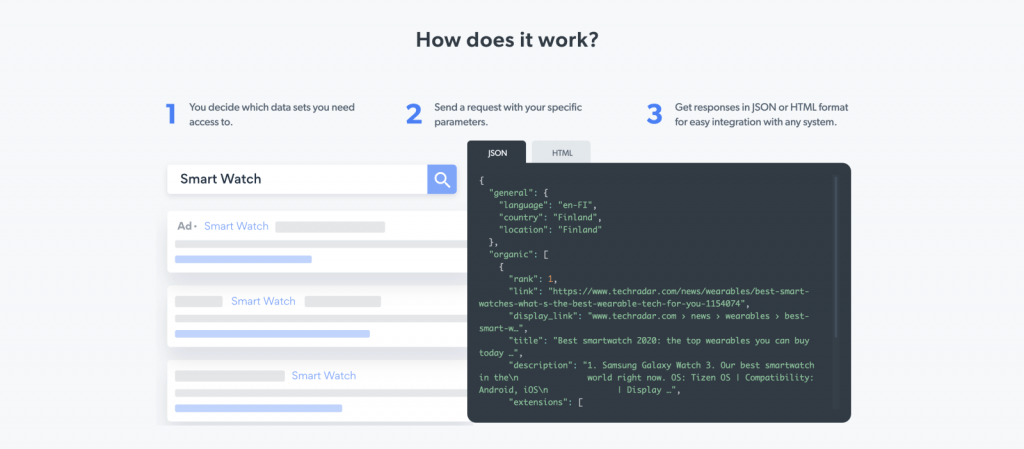 Bright Data vs. competitors: Which is the best proxy service?
Let's take a look at some Bright Data alternatives: Oxylabs, Smartproxy and Geosurf, and see how they compare with what Bright Data has to offer.
Bright Data vs. Oxylabs
Here is a side-by-side comparison of both companies:
| | | |
| --- | --- | --- |
| | Oxylabs | Bright Data |
| Rating | 8.9 | 9.5 |
| Bandwidth | Limited | Limited by plan |
| Proxy pool size | 100M Residential Proxies | 72M Residential proxies |
| Countries | 193 | 194 |
| Authorization method | Whitelist of IP and user credentials | Whitelist of IP and user credentials |
| Session control | Yes | Yes |
| Can renew plans from the dashboard | No | Yes |
| 24/7 live chat customer support | Yes | Yes |
| Dedicated account manager | Yes | Yes |
Both solutions support HTTP, HTTPS and SOCKS protocols.
Bright Data Pros
Easy to use. Excellent dashboard functionality.
More proxy, server and super proxy locations
Longer time on the market
Plans are more customizable
Oxylabs pros and cons
Less expensive but more limited features.
Main con: Weak infrastructure performance and minimal scalability
Bright Data vs Smartproxy
Smartproxy is another one of the 'younger companies' trying to compete with Bright Data. As a new player in the field, it doesn't offer all the tools and capabilities that Bright Data does. Here a quick comparison:
| | | |
| --- | --- | --- |
| | SmartProxy | Bright Data |
| Rating | 8.5 | 8.9 |
| Bandwidth | Limited | Limited by plan |
| Proxy pool size | 10M residential IPs | 72M residential IPs |
| Countries | 194 | 194 |
| Authorization method | Whitelisted IPs and user credentials | Whitelisted IPs and user credentials |
| Session control | yes | yes |
| Protocols | HTTP, HTTPS | HTTP, HTTPS, SOCKS |
| 24/7 live chat customer support | yes | yes |
| Dedicated account manager | no | yes |
Here are some of the pros of each solution:
Bright Data Pros
More locations
More users
Better filtering. You can filter by location, proxy type, carrier, ASN and provider.
Supports SOCKS
Less connection errors
Customizable plans
Smartproxy Pros
Bright Data vs Geosurf
Geosurf is another contender in the residential proxy space
| | | |
| --- | --- | --- |
| | Geosurf | Bright Data |
| Rating | 8.5 | 8.9 |
| Bandwidth | Limited | Limited by plan |
| Proxy pool size | 2M residential IPs | 72M residential IPs |
| Countries | 130 | 194 |
| Authorization method | Whitelisted IPs | Whitelisted IPs and user credentials |
| Session control | yes | yes |
| Protocols | HTTP, | HTTP, HTTPS, SOCKS |
| 24/7 live chat customer support | no | yes |
| Dedicated account manager | no | yes |
As you can see, Bright Data offers a larger proxy network, more locations and more features. Features that are essential today, like user credentials authentication and SOCKS protocol support, are missing from the Geosurf stack.
Bright Data Pros
More locations
More proxies
More filtering options
Better support
Less connection errors
Geosurf Pros
Has a clearer pricing model
Cheaper
Geosurf Cons
Has a limited number of IPs (less than 10,000)
How does Bright Data fare in performance tests?
Bright Data's rotating residential proxies fare well in performance tests. First of all, they have high success rates with the majority of target sites. Regarding speed, they are fast but tend to be slower by a couple of seconds when compared with other proxies. On the other hand, Bright Data passed proxy quality tests with flying colors, since many tools don't detect the proxies as such.
Set up and ease of use
The dashboard is easy to use and the set up is quick. Once you sign-up, you need to set up your proxy zones. Each zone requires a plan, sub-users, specific types of proxies etc. You can customize each one based on your needs. The first 500 zones are free, afterwards there is an additional cost for each additional one.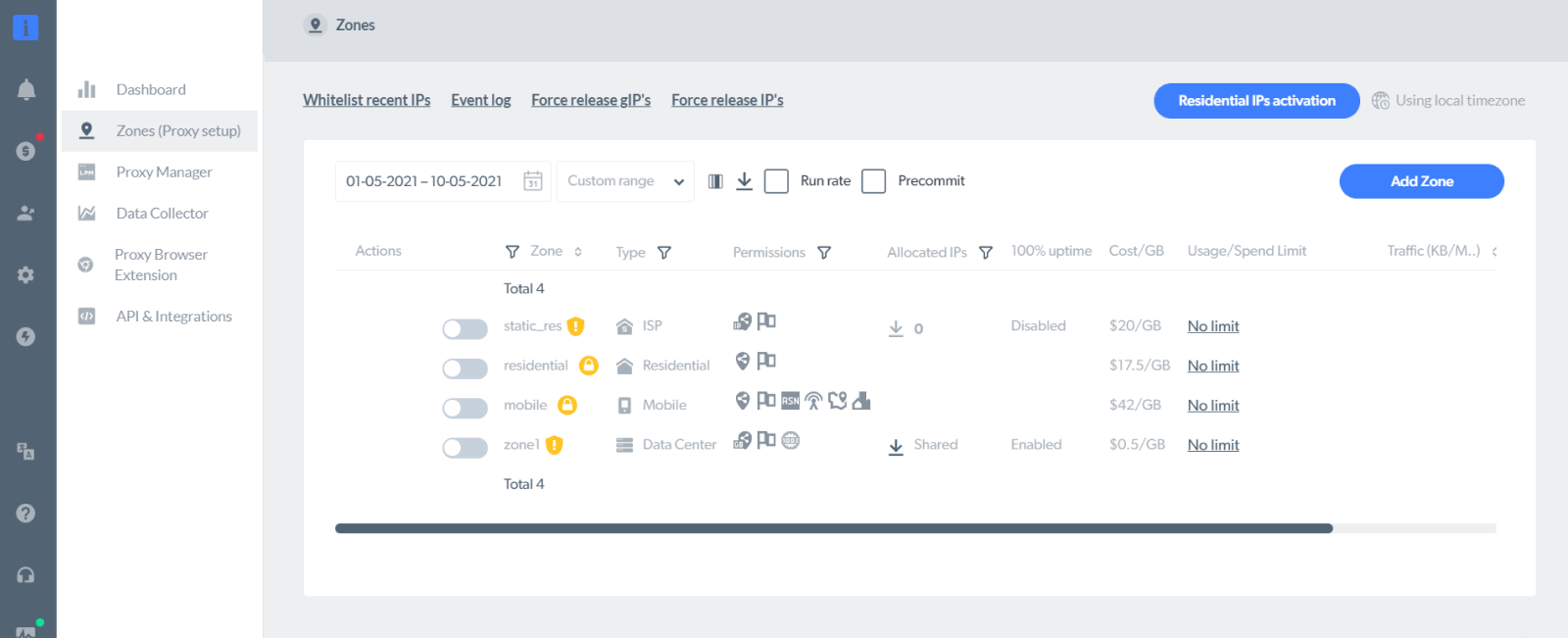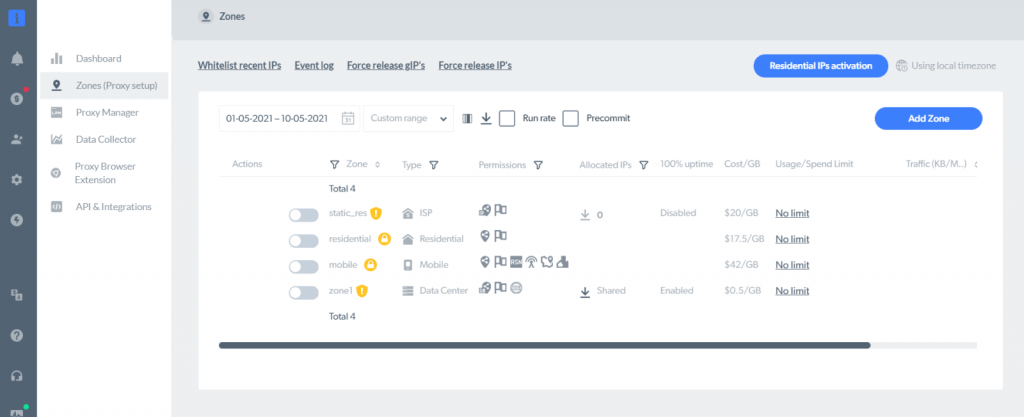 What about Customer Support?
Bright Data offers one of the most solid customer support models among proxy services. It offers:
24/7 live chat – It takes less than 10 minutes to get a reply.
A support ticket system – typically takes a few hours to get a response.
Alternative and up-time – The Bright Data support team is able to offer different solutions to one problem, so you can gain access to temporary fixes that enable you to protect your data collection efforts while we simultaneously work on more permanently fixing your infrastructure.
Conclusion
I have personally tried Bright Data for my eCommerce business. I have also tried the other data collection solutions mentioned in this review. I personally prefer Bright Data both in terms of their easy of use, technological capabilities, and customer support. They were a little pricier than the competition but I was able to get data sets from target sites that other proxy services were unable to assist me in getting. For me the Data Collector was a life saver as I am a business owner and not a 'technologically-oriented' kind of guy. The fact that Data Collector enabled me to collect competitor reviews, pricing, products, and inventory levels directly from marketplaces really helped me find new opportunities to take advantage of in my niche.
Choosing a data collection platform though is a truly individual endeavour, I encourage you to take advantage of one of Bright Data's free trials and see if you and your team have 'chemistry' with their tool and networks.
Your comments, impressions and feedback are always welcome in the comments section.
Sources:
https://proxyway.com/reviews/luminati-proxies
https://proxyway.com/comparisons/geosurf-vs-luminati-performance-feature-comparison#:~:text=As%20for%20protocols%2C%20Geosurf%20supports,and%20ASN%2FProvider%2FCarrier.
https://proxyway.com/comparisons/oxylabs-vs-luminati-which-is-the-best
https://proxyway.com/comparisons/smartproxy-vs-luminati-performance-feature-comparison
https://brightdata.com/pricing/proxy-network
https://www.cmswire.com/information-management/5-reasons-your-company-should-use-proxy-servers/
https://www.quora.com/Why-would-you-need-a-proxy-server
https://www.toptenreviews.com/when-and-why-should-i-use-a-proxy-server
Disclaimer: Designed to help users make confident decisions online, this website contains information about a wide range of products and services. Certain details, including but not limited to prices and special offers, are dynamic and subject to change at any time without prior notice. Though based on meticulous research, the information we share does not constitute legal or professional advice or forecast, and should not be treated as such. The content is paid promotion by Bright Data Ltd. Reproduction in whole or in part is strictly prohibited.